Addons: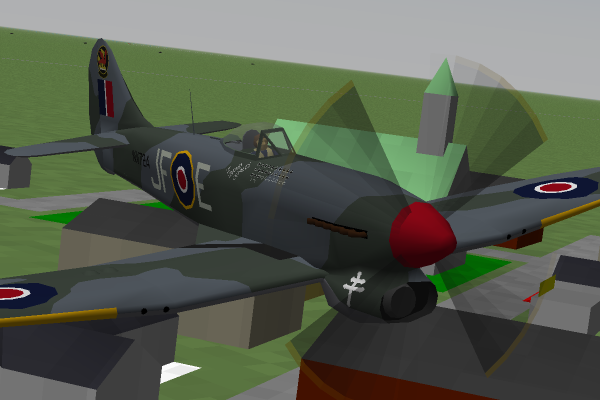 Hawker Tempest Mk.V

This is the Hawker Tempest Mk.V. The original model is in the Down In Flames pack, and modified with extra details, transparencies and full moving parts. Markings include:

JF-E was the aircraft flown by Flight Lieutenant Pierre Clostermann. He was a French pilot flying for the RAF, finishing the war with 23 kills plus 9 probables (although the latest research has revised this figure down to 11 kills plus 5 probables). 12 of his victories were scored in the Tempest, making him the highest scoring Tempest ace. After WW2 his wartime diary was published as the book called The Big Show (Le Grand Cirque). NV724 was actually the the fourth Tempest to bear the JF-E code. Clostermann's previous Tempest (the one which he flew up to the end of WW2 in Europe) was destroyed in a mid-air collision a few days after VE day during a victory parade fly past, and he was forced to bail out for the first time in his life.

JF-A was flown by Flight Lieutenant Basil Michael Vassiliades. A Greek pilot flying for the RAF, he was killed in action in March 1945, serving in the same No.3 squadron alongside Pierre Clostermann. With 9 kills plus one probable to his credit, Vassiliades is the highest scoring Greek fighter ace in WW2. JF-A (EJ755) is the aircraft which he was flying on his final sortie.

JJ-F was flown by Squadron Leader David Fairbanks. An American by birth, he ran away from home after finishing high school, and made his way to Canada where he enlisted with the RCAF. When he was shot down and captured in February 1945, he has 12 confirmed kills to his credit, 11 of them in the Tempest, making him the 2nd highest coring Tempest ace. He survived POW camp and eventually became a test pilot for De Havilland Canada after the war. EJ762 was the Tempest which Fairbanks scored his first 2 kills as a Tempest pilot.

SD-F was the aircraft of Squadron Leader Joseph Berry. Formerly a Beaufighter pilot, in June 1944 he was posted to the Fighter Interception Unit (FIU) - RAF's specialist night fighter unit - to lead a special Tempest flight within the FIU to develop tactics against V-1 flying bombs. Between June and August that year he shot down a total of 61 V-1s making him the highest scoring V-1 killer in the RAF. He was killed October 1944 when he was shot down by ground fire while leading a ground attack sortie over Holland, flying the Tempest SD-F (EJ600).